Report From Comrades On the Ground  9/14, in Sacramento
This past Monday, September 14th, comrades from across the greater Northern California area gathered to counter-protest Donald Trump's visit to occupied Nisenan land, otherwise known as the California state capitol of Sacramento. 45 was staging a propaganda visit to one of his only enclaves of die-hard supporters in the state —supposedly here for a "FEMA press briefing" tied to the wildfires. This report documents police and fascist vehicular attacks that occurred, as well as how anti-fascist protesters fought back; seizing property, claiming the streets, and undermining police and racists' legitimacy. 
---
We joined an already formed crowd of over 100 counter-protestors, organized by Sacramento based activist groups J.U.I.C.E. and Empact, at Ruth Inman Park around 10:30am. Shortly after, a march began towards McClellan Airport, where Trump was soon to be landing.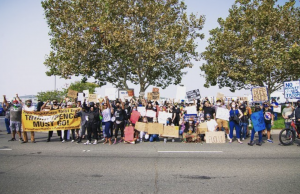 As the march reached the largest group of Trump supporters, we stopped and claimed the space of the street. Meanwhile, fascists were confined to the sidewalks on both sides, mouthing racist slurs at Black protesters, with no shortage of resistance.
Several anarchists at the front of the crowd unfurled a "Solidarity Means Attack" banner (pictured above), while others directed traffic. Protesters opened and closed one lane, only when cars associated with BLM needed to pass. This effectively shut down the network of Trump supporters, disconnecting those in vehicles from those on the sidewalks. While cops protected the airport and 45 as he arrived, and, disjointed racists stood around, a unified anti-fascist front held its ground in the street.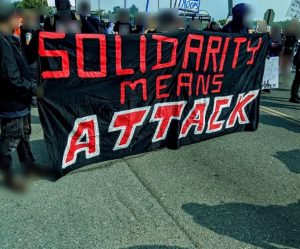 Some organizers then made the strategic decision to exit swiftly and take a more tactical position. Protesters moved around the corner, where militants dashed into the street and back, seizing flags and other hateful paraphernalia from fascist truck after fascist truck as they passed, disrupting the most unified caravan the Trump supporters had all day.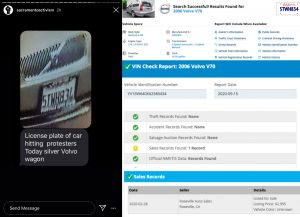 While protestors congregated on the sidewalk and bike lane, a silver Volvo s60 drove into the crowd. Initially, they pulled in towards the group, and protestors immediately confronted them. Seconds later, the driver inched in, then turned the wheel and floored it into the latter end of the crowd. The car hit about five people total. The vehicle in the video is a grey Volvo S60 with California Plate #5TWH836.
 Two comrades took the majority of the impact of the front of the car. A comrade avenged the injured protesters by punching the Volvo's side window with their bare fist, shattering it. They walked away gracefully with a bleeding but otherwise uninjured hand.
As one of the two hit by the vehicle said after:
  "This first car to approach us that day…definitely wasn't surprising, seeing as that's been the main method of right wing violence this whole summer during the George Floyd Uprisings. But getting hit felt incredibly surreal. You watch video after video of protesters getting injured, and some killed (Rest in Power Robert Forbes, Summer Taylor, Heather Heyer, and those unnamed). Yet it still doesn't feel real until your legs are about to go over or under this car right in front of you. Then and now still, what shakes me to my core the most  was the clear intent. The driver obviously wanted to hurt me and the comrade beside me. We all know the political climate in America is fully fascistic at this point, but for me as a young person in the Bay in this movement, experiencing it for the first time was a gut check." 
Following the attack, comrades were joined by a car caravan, which protesters organized together to blockade the road. The energy at this point was mixed and conflicted, but morale was rapidly rebuilt by more successful snatch-and-grab efforts for Trump paraphernalia, which protesters later burnt. Energy continued to build after this first vehicular assault. It was clear to protesters that more defensive momentum was necessary. This militancy & unity rose organically among protestors, without any direct calls to action being made by organizers.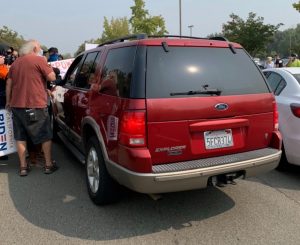 As protestors began to defensively shut down and redirect traffic, one Trump supporter in a red Ford Explorer ( Plate #5ECB374) refused to turn around, instead driving forward aggressively, attempting to attack the crowd. 
With injuries sustained by one protestor, 911 was called and an ambulance arrived within minutes. This response time drastically differs from ambulance response time later in the day, when CHP more seriously injured a comrade with their vehicle.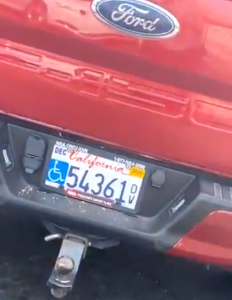 As protesters mobilized to begin marching back to the park following this incident, no more than two blocks later, a maroon 2018 Ford F-150 drove through the crowd.  The vehicle in the video is a 2018 Ford F-150 (Plate #54361DV)
As comrades finally began recovering and regrouping back at Ruth Inman park, the gathering took Watt Ave with righteous and joyous celebratory energy. Although fascists attempted to dampen the mood, comrades defended themselves and fought back rapidly and repeatedly.
As the march was nearing its end, two California Highway Patrol vehicles drove towards the crowd remaining in the intersection. Comrades attempted to block the vehicles from causing harm to protesters. As the two vehicles approached the halfway point of the intersection, the CHP vehicle on the right side rapidly accelerated toward comrades, in the same fashion as the Trump vehicles. A protestor, upon being charged by CHP, jumped on top of the police car. The vehicle then sped off from a stop, sending the protester off the hood, over the top of the vehicle, and slamming their body onto the pavement.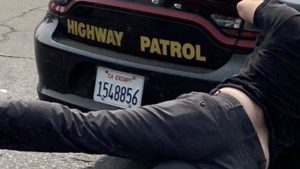 Immediately following the assault, CHP and Sacramento police closed traffic for all vehicles in both lanes. This yet again laid bare the state and its agents' calculated negligence for Black, Indigenous, poor, & otherwise transgressive people's lives. And yet again, our street medic comrades were the only ones who behaved with any competence— for an entire 30 minutes until the ambulance finally arrived.
Sacramento Street Medics were beside the fallen comrade within less than a minute. They carried them to the grass on a portable stretcher they'd unfurled. While the critically injured protester laid on the grass of Ruth Inman park in pain, for all we knew possibly on their deathbed, dozens of officers stood idly by. As a stark reminder of their blatant disregard for human well being and allegiance to capital, CHP officers also stated that if any protesters still remained in the street, EMTs would be told to turn around.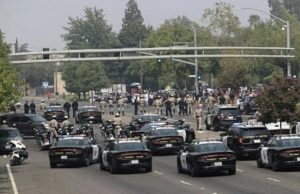 @photoscrounge (IG)
Many have said it once and we'll say it again: we protect us. The state's response to a hit & run they committed was to then immediately trap protesters inside the intersection, & block any outside help from coming in. And what service from the state there was— took almost an hour for a human being laying severely injured on the hot pavement. Inhaling poison from colonialist fire mismanagement. Today and every day of our lives, we mourn the dead and fight like hell for the living. Rest in power George Floyd, and all those unnamed.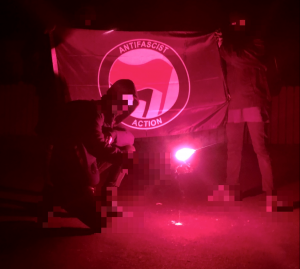 Comrades fought back in Sacramento on Monday, and like most acts of resistance in present day so-called America, acts of defiance were met with violence and terrorism. Although anti-fascist protesters were assaulted by both street and state fascists, we will never stop fighting to protect each other, nor give in to their fear tactics. Our militant self defense is increasingly and literally urgent as violent fascism continues to take a stronger hold locally and nationally. In the coming months, may we remember— this world belongs to us. As Asatta reminds us, we can and must protect each other as these chains get cut and precincts burnt. 
---
The Northern California Youth Liberation Front stands in solidarity with all anti-racist, anti-fascist and anti-capitalist rebels throughout the so-called U.S. and the world. Find each other, and take that shit back.